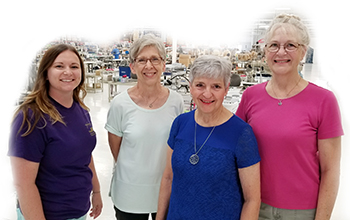 Volunteer Programs
Volunteers are an integral part of our agency, filling roles that may include direct contact with patients to providing clerical and fundraising support for the organization. Our volunteers are community-minded people who believe in the mission and philosophy of hospice and have a desire to serve.
Patient Care
Volunteers play a very important role by enhancing the quality of life for patients and their families by providing companionship, a listening ear and practical assistance. They may also read to them or offer emotional or spiritual support. Volunteers may help caregivers run errands, do light housekeeping or yard work, or sit with patients to give caregivers a break. CHP Hospice volunteers receive at least 15 hours of certification training before working with patients.
Behind the Scenes
We also have opportunities to serve doing office work, answering phones, greeting people, or helping with fundraising events. CHP also has an active sewing group called "Sewing for Hospice" that creates and sells contemporary items with proceeds benefiting CHP Hospice.
"*" indicates required fields