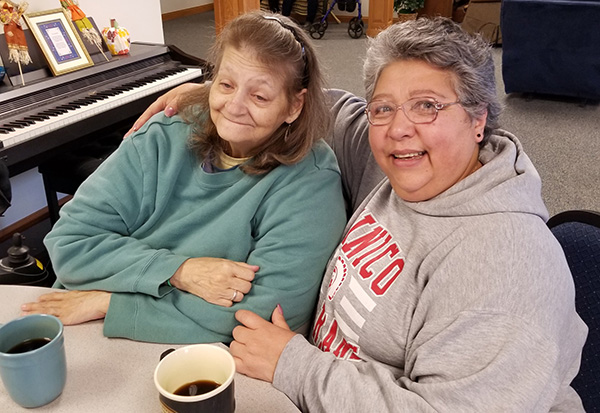 A Safe, Home-Like, Medically-Monitored Day Program
CHP Adult Day Centers are vibrant and social communities for seniors and disabled people. Clients enjoy their day in a socially-engaging environment while receiving the care and support they need.
Adult day care is unlike assisted living or nursing facilities. It is flexible, affordable and helps your loved one remain as independent as possible. During weekdays, clients may spend the whole day or part of the day at our centers and return home – at a cost that is significantly less than other care options. Transportation, nursing and therapy are also available.
Clients receive personal care, meals, snacks and activities from our loving staff. Family caregivers enjoy peace of mind knowing their loved one is spending the day in a safe, fun, and social environment while receiving expert care.
Our Adult Day Centers in Archbold, Celina and Van Wert provide a safe, socially engaging and home-like environment. It's a place where loved ones can develop friendships, be active and social, and do the things they enjoy.
Your loved one remains where they want to be – in their homes and with their families. You receive respite, assistance and support you need to refuel and continue to give your family your best.
And, you will find that Adult Day Care is a very affordable care option.
Benefits of Adult Day Care
Slows deterioration and improves functioning
Prevents or delays nursing home placement
Provides respite for family caregivers
Lessens feelings of isolation and depression
Adult Day Services
A daily schedule of activities for socializing, developing friendships and encouraging mental stimulation
Arts and crafts, cards, games and more available each day
Meal and snacks provided
Dedicated, caring staff and volunteers, including licensed nurses to manage medications
Nursing and therapy services available
Who is Adult Day Care for?
Seniors and medically-fragile and/or socially isolated adults, age 18 and older
Senior adults with physical impairments, mental confusion, or social isolations that interfere with their capability for self-care (Alzheimer's, Dementia, and medically fragile adults with and without intellectual/developmental disabilities)
Adults limited in their ability to function independently, but not requiring 24-hour supervised care
Adults recently discharged from a hospital or nursing facility and in need of physical and mental stimulation
Who is appropriate for Adult Day Care?
Cannot fully manage their daily activities
Cannot be left alone safely
Desire friendship/companionship
Live with someone who needs caregiving assistance or works outside the home
Are age 18 and older
Have impairment due to illness, injury or aging
Have a primary care physician
Are not aggressive of abusive
Needs intermittent supervision
Are able to walk or transfer with assistance from a wheelchair
How much does it cost?
Medicare does not pay for adult day care, but Medicaid does. Passport also pays for some adult day services. Most services are private pay.
Daily stay ranges between $58-$75 per day, depending on how many hours the client attends and services provided
Transportation: $20 round trip; $15 one way (May be covered by Passport)
A Day at the Adult Day Center